Simulation is a fast, controlled, and reproducible way to evaluate new algorithms for distributed computing platforms in a variety of conditions. However, the realism of simulations is rarely assessed, which critically questions the applicability of a whole range of findings. In this talk, I will present our efforts to build platform models from application traces, to allow for the accurate simulation of file transfers across a distributed infrastructure. File transfers are key to performance, as the variability of file transfer times has important consequences on the dataflow of the application. I will present a methodology to build realistic platform models from application traces and provide a quantitative evaluation of the accuracy of the derived simulations. Results will show that the proposed models are able to correctly capture real-life variability and significantly outperform a state-of-the-art platform model.
Date: Dec 21, 2016
Time: 10am PST / 1pm EST
Location: 11th floor Conference Room 1135, Information Sciences Institute, Marina del Rey, CA, USA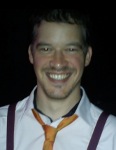 Frédéric Suter, Ph.D. (CNRS, IN2P3, France)
Frédéric Suter is a tenured CNRS researcher at the IN2P3 Computing Center in Lyon, France, since 2008. His research interests include scheduling, Grid computing and platform and application simulation. He is one of the main developer of the SimGrid toolkit. He obtained his M.S. from the Université Jules Verne, Amiens, France, in 1999, his Ph.D. from the Ecole Normale Supérieure de Lyon, France, in 2002 and his Habilitation Thesis from the Ecole Normale Supérieure de Lyon, France in 2014.